Hirose Daisuke

Now

-

TeniMyu

Information
Japanese Name
廣瀬 大介 (ひろせ だいすけ)
Romaji
Hirose Daisuke
Born In
Tokyo, Japan
Birthday
June 3, 1991
Age
28
Character
Kisarazu Atsushi
Generation
St. Rudolph 2nd
Portrayers
Previous
Kato Ryosuke
Hirose Daisuke

Now

-

TeniMyu

Information
Japanese Name
廣瀬 大介 (ひろせ だいすけ)
Romaji
Hirose Daisuke
Born In
Tokyo, Japan
Birthday
June 3, 1991
Age
28
Character
Kisarazu Ryo
Generation
Rokkaku 2nd
Portrayers
Previous
Kato Ryosuke
Daisuke Hirose (廣瀬大介 Hirose Daisuke), born on June 3, 1991, is a Japanese actor from Tokyo, Japan. He's headed by Main Cast Production.
His TV drama debut was in the TBS series Tumbling, which began in April of 2010 and ran till June of the same year. Though the series was a success and began a line of theater plays with some actors from the series such as TeniMyu alumnus Yanagishita Tomo and Sasaki Yoshihide participating in the production, Hirose took no part in it.
Other than Hirose's affiliation with Tumbling, he's also known for playing the character Kaneda in the theater version of Litchi ☆ Hikari Club (ライチ☆光クラブ) as well as voicing the character in its anime adaption.
Like Hirose's predecessor, Kato Ryosuke, he played both the role of Kisarazu Atsushi (from St. Rudolph) and Kisarazu Ryo (from Rokkaku) in TeniMyu. He's part of the second-generation cast for each character.
TeniMyu
Theater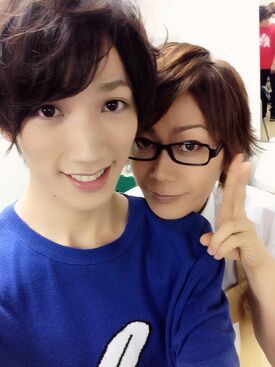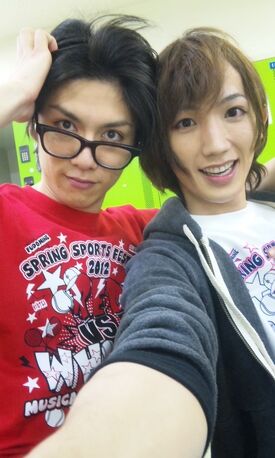 gunjiPRODUCE Vol.98「ミュージカル~LOVE~真夏の夜の夢」(2010年8月6日・7日、ムーブ町屋)ディミトリアス役
ミュージカル『薄桜鬼』〜斎藤一篇〜(2012年)沖田総司 役
「銀河英雄伝説 輝く星 闇を裂いて」(2012年)ウィレム・ホーランド 役
「ライチ☆光クラブ」紀伊國屋ホール(2012年12月) カネダ役
朗読劇+新春語合「宮本武蔵〜巌流島の戦い〜」日本橋公会堂(2013年1月)
ミュージカル『薄桜鬼』~沖田総司篇~(2013年3月)主演 沖田総司 役
ママと僕たち(2013年6月21日- 30日、AiiA Theater)
ミュージカル『薄桜鬼』土方歳三篇(2013年10月2日-11日、日本青年館 大ホール)- 沖田総司 役
舞台『銀河英雄伝説』第四章 前篇 激突前夜(2013年11月-12月、東京国際フォーラム ホールC)
「ライチ☆光クラブ」再演(2013年12月、AiiA Theater Tokyo) - カネダ 役
ミュージカル・コメディ『Love Chase!!』(2014年5月、シアタークリエ)
Filmography
TV
タンブリング(2010年4月 - 6月、TBS)
相棒 season12 第4話「別れのダンス」(2013年11月6日、テレビ朝日) - 芳川圭一 役
Movies
ゲバルト(2013年11月) - 橋本銀次 役
フェアトレードボーイ(2014年1月)(監督:川村清人)(短編オムニバス)
Websites
Community content is available under
CC-BY-SA
unless otherwise noted.